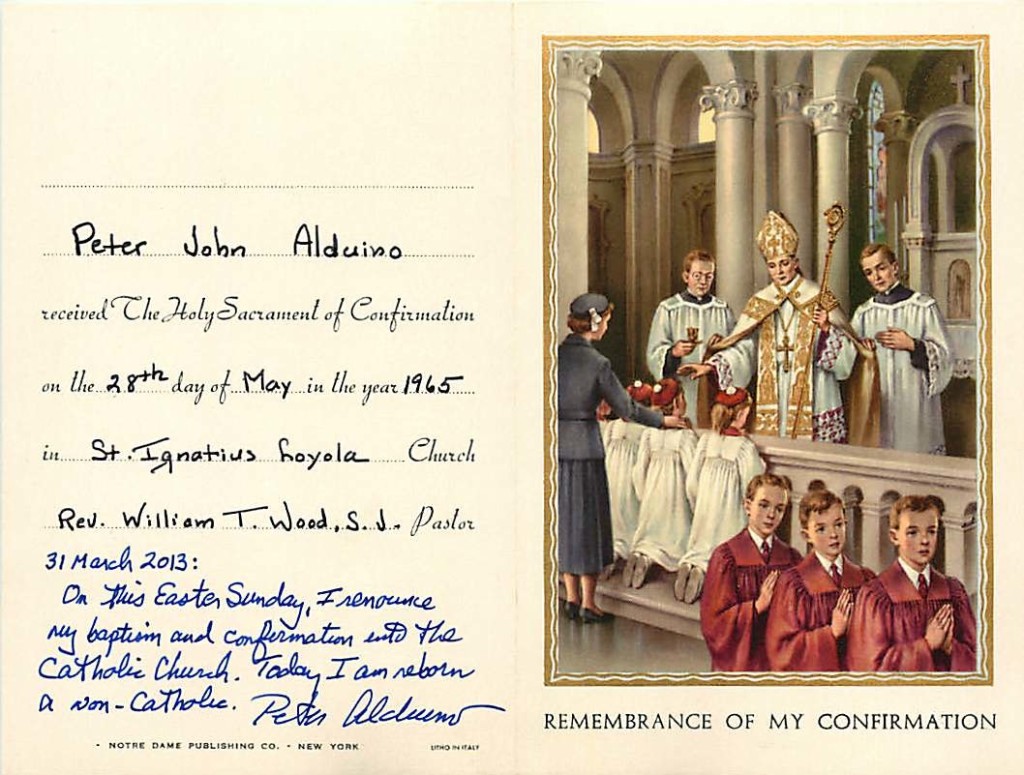 To His Eminence: Cardinal Timothy Dolan, Archbishop of New York
Today is Easter Sunday, the day in the Catholic calendar most devoted to the celebration of rebirth. Today, in this 48th year since my Confirmation into the Catholic Church, I choose to be reborn a non-Catholic. I am renouncing both my Baptism and Confirmation into the Church. You will find my 1965 Remembrance of Confirmation, performed by Bishop Fearns at St. Ignatius Loyola on Park Avenue, returned with this letter. A record of my Baptism should be in the records of the Church of the Blessed Sacrament on West 71st Street. Please remove me from your roster of adherents.
Why?
Today, on national television, you offered that gay couples are entitled to friendship, but you added that in the eyes of the Catholic Church, they were precluded from the happiness that comes from a loving, long-lasting romantic relationship. Here are the exact words you used in your exchange with the host of the program:
GEORGE STEPHANOPOULOS (HOST): And you know, especially this week – because it's been at the top of the news – for many gay and lesbian Americans –– gay and lesbian Catholics, they feel unwelcome –– in the Church. And what do you say as a minister, as a pastor – to a gay couple that comes to you and say, "We love God. We love the Church. But we also love each other, and we –– want to raise a family in faith. What do you say to them?
DOLAN: Well, the first thing I'd say to them is, "I love you, too. And God loves you. And you are made in God's image and likeness. And – and we – we want your happiness. But – and you're entitled to friendship." But we also know that God has told us that the way to happiness, that – especially when it comes to sexual love – that is intended only for a man and woman in marriage, where children can come about naturally. We gotta be – we gotta do better to see that our defense of marriage is not reduced to an attack on gay people. And I admit, we haven't been too good at that.
And so once again, Your Eminence, you affirmed that the position of the Catholic Church is that marriage is intended only for a man and a woman. Fair enough. I would have expected nothing different, nothing less. But to add that gay couples are just entitled to friendship, and that anything more is precluded by God, Your Eminence, you are just wrong!
I am a gay man. I am in a 12-year relationship – a relationship that has endured much longer than 50% of the marriages in this country – a relationship which has seen its ups and downs, its fun and its frustrations, its honeymoon periods and its less than honeymoon periods. My honey, as I call my partner, and I have struggled to know one another, to appreciate and accept one another's peculiarities, to talk candidly, to argue and to compromise with one another. We have learned to both embrace interdependence and safeguard independence. Along the way, where a lot of couples might have called it quits, we called a couples therapist and made weekly visits. And we are stronger for it. You better believe this is a friendship. And you better believe this is a whole lot more – regardless of whether you deny it. Regardless of whether you would deny us, and hundreds of thousands of couples like us, respectful inclusion in the institution that treats what we have together as a whole lot more than a friendship, it is. And it deserves to be honored as such. And Your Eminence, the happiness that you say was intended only for a man and women in marriage, God is granting that to us too.
There are other Churches that would welcome and honor what we have built together as more than a friendship. Even the new Pope Francis, while he was battling same-gender marriage laws in Argentina (a campaign he cast as a "war of God"), worked behind the scenes to start a conversation in favor of civil unions as an alternative – as a way to recognize that what loving, long-term gay couples have is more than friendship, and is entitled to be treated as more than friendship. You have never even hinted at such a generosity of spirit.
You are the President of the U.S. Conference of Catholic Bishops. That makes you the highest-ranking Catholic cleric in the country. I accept that your pronouncements reflect the position of the Church in the United States. Your Eminence, your words on this Easter morning, on this day of rebirth, have given me the final bit of inspiration I have needed to be reborn. I leave the Church with no ill will. I leave because I am ill at heart with each new Church pronouncement of the limitations of God's desires for me, for my happiness, and for the fullness of my experience as a human being, born in His image, just because I am gay.
Today, I am reborn a non-Catholic.
Respectfully,
Peter Alduino
cc: His Holiness, Pope Francis
Response:
Response from Cardinal Dolan (April 9 2013)
Source:
Cardinal Dolan To Gay Couples: You're Only 'Entitled To Friendship'
Cardinal Dolan Interviewed by George Stephanopoulos (VIDEO)
On Gay Unions, a Pragmatist Before He Was a Pope

Related Readings:
If the Church is Serious About Welcoming Gays… (NYT, Op-ed)