Marriage  Equality Image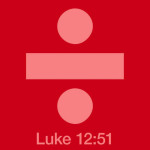 Archbishop's Image
Three days ago, San Francisco's Catholic Archbishop Salvatore Cordileone posted, to his personal Facebook page, the above mockery of the marriage equality image – the most used profile image in Facebook history[i].  The scriptural reference reads:  "Suppose ye that I am come to give peace on earth? I tell you, Nay; but rather division."  In under 24 hours, over 200 angry comments had been posted in response.  The post was deleted after it received over 350 comments, not a single one of which was supportive.[ii]
Ross Murray, Director of News and Faith Initiatives at GLAAD[iii] writes: "The verse is a misappropriation of Jesus' longer narrative, in which he calls out religious leaders who use their authority to hurt and condemn others…much like the situation we see today. It is especially disheartening to see this symbol and verse being used at a time when LGBT youth homelessness is so high. As Carl Siciliano of the Ali Forney Center has noted, many homeless LGBT youth have been kicked out of their homes because religious leaders have told parents that is the only thing to do."
It is the middle of Holy Week in the liturgical calendar of the Catholic Church. The new Pope Francis said on the day the Archbishop posted his mockery , "Holy Week challenges us to step outside of ourselves so as to attend to the needs of others; those who long for a sympathetic ear, those in need of comfort or help." Two days ago, the Pope visited a juvenile detention center in Rome and washed the feet of young offenders including women and Muslims. When asked why he had come to visit them, he responded it was to "help me be humble, as a bishop should be."
Humility is not the strong suit of the bishop of San Francisco. It is rather hubris that he prefers to cloak himself in. He harbors particular spite towards gay men and women. He obviously considers the idea of legalizing same-gender marriage as repugnant and sacrilegious (see my earlier essay). That is his prerogative.
And yet, he is the archbishop in San Francisco. The city and the surrounding areas that fall within his archdiocese are filled with gay men and women, gay youth and same-gender families. And his default position is to preach division – indeed to sanction, if not condone division if, of all the utterances he could possibly draw from the Gospels, he offers: "Suppose ye that I am come to give peace on earth? I tell you, Nay; but rather division." It is some vile strain of animus that compels this man to focus so much of his energies on antagonizing and alienating the gay community and the people who love and care about them.
There is a new spirit of humility and humanity emanating from Rome. "Help one another. That is what Jesus teaches us. This is what I do. And I do it with my heart. I do it with my heart because it is my duty, as a priest and bishop I must be at your service." This is what Pope Francis shared with the youngsters at the detention center two days ago.
Your Eminence, you were appointed by the very antagonistic Benedict XVI, and you are still towing his line. You now have permission to speak and act differently. The generosity of spirit being demonstrated by Pope Francis is giving you permission to speak and act on his desire that we all be embraced as children of God. Take off that ill-fitting cloth of division and spite. I would wager that the newer cloak of humility, humanity and service will fit you much better.
If not, then perhaps it is you who are ill-fitted for the role of bishop.
---
[ii] From SF Archbishop Drunk Driver
[iii] GLAAD's Mission: GLAAD amplifies the voice of the LGBT community by empowering real people to share their stories, holding the media accountable for the words and images they present, and helping grassroots organizations communicate effectively. By ensuring that the stories of LGBT people are heard through the media, GLAAD promotes understanding, increases acceptance, and advances equality.